Irish-based developers, Red Rock Developments, have secured planning on a Dublin Dockland's site for a new 10-storey hotel with 108 bedrooms.
Premiere Inn owners, Whitbread PLC have agreed to pre-lease the hotel which is part of their plan for over 2,500 hotel rooms in Dublin.
The new Premiere Inn will be located at the junction of Gloucester Street South and Prince's Street South in Dublin 2.
The approved scheme comprises of the demolition of the existing 2 storey building and the construction of a 10 storey hotel which will include a bar, restaurant and foyer/reception area.
Kevin Murray, head of acquisitions for Premier Inn in Ireland, said: "We are investing strategically to secure the top locations that Premier Inn is known for. Gloucester Street, with its proximity to Trinity College and the south docklands corporate market, is exactly the type of location we are looking for. Securing the site is another important milestone for us and we're actively seeking new freehold and leasehold opportunities across the city.
Keith Craddock, managing director of Red Rock Developments, commented: "It has been a pleasure working with Whitbread and their wider team. We look forward to delivering a high specification 10-storey hotel on one of the last remaining development sites in the south docks and adding a new landmark building to the Dublin city skyline."
CGI consultants, 3D Design Bureau liaised with Red Rock Developments to produce a series of 3D planning and 3D marketing solutions. 3D Design Bureau delivered aerial CGIs, verified view montages and a BRE daylight & sunlight assessment which are being used for both marketing and planning purposes.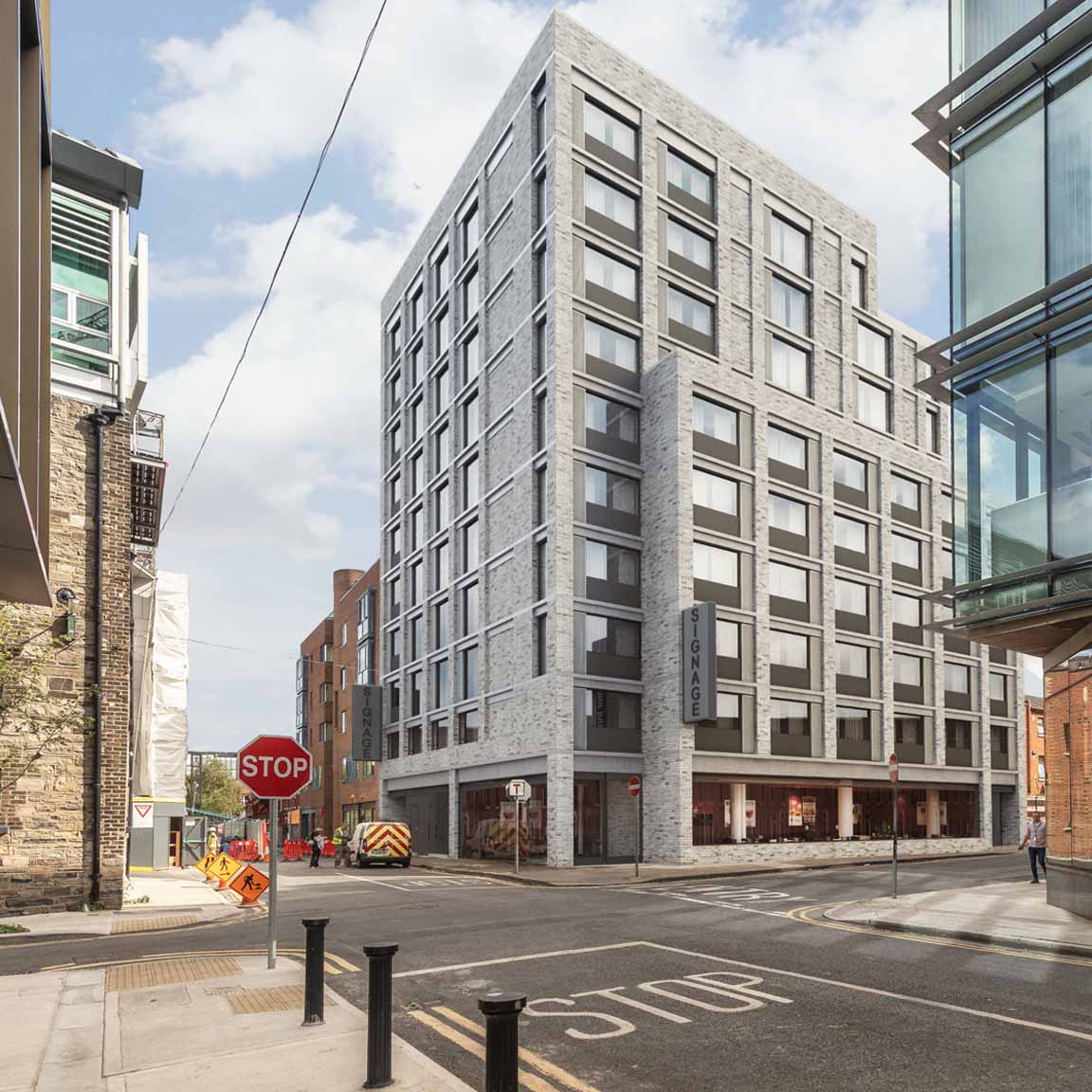 Full project details:
Project name: Premiere Inn Hotel, Dublin's Docklands.
Site location: Lands (c.0.064ha) including, 1 and 3 Prince's Court at the junction of Gloucester Street South, and Prince's Street South, Dublin 2
Planning stage: Planning approved
Planning documents: Dublin City Council
Floor area: 4661.9 m2
Site area: 0.06 hectares
Storeys: 10
Bedrooms: 108
Development team:
Developer: Red Rock BPKH Limited are developers of high-quality family homes and apartments. They are based in Dun Laoghaire, Co. Dublin.
Occupier: Premiere Inn by WhitebreadGroup PLC is the UK's largest operator of hotels and restaurants with some of the UK's most successful hospitality brands.
Architect & Civil Engineers: DTA Architects is a design oriented practice with a commitment to and reputation for quality of architectural design and client service at all stages from initial brief definition, conceptual design, feasibility studies and master-planning, to the delivery of completed building projects.
Planning Consultant: John Spain Associates was established in 1996 by John Spain. Based in heart of Dublin's central business district with associate offices in London, Manchester and Leeds in the United Kingdom. They a wide range of professional services throughout Ireland in the areas of planning, development and environment.
Environmental Engineer: CORA Consulting Engineers is a Dublin based structural engineering practice established in 2006 and has built it's reputation on innovative thinking and structural engineering solutions.
Electrical Contractor: Murphy Belton Consulting Engineers: is a building services consultancy offering expertise in Mechanical, Electrical and Public Health Engineering.
CGI Consultants: 3D Design Bureau: are specialists in Architectural Visualisation, BIM and VR – Delivering Quality Design Planning and Marketing Solutions. For this project, 3D Design Bureau created a series of aerial CGIs and verified view montages, all of which are being used for marketing and planning purposes. They are based in Dublin, Ireland.