The planning process for property developments in Ireland can be complex and time-consuming, involving multiple stakeholders and regulatory requirements. Engaging early with local authorities, through a pre-planning meeting, and potentially the local community through a public consultation, can be crucial to navigating this process successfully.
A key consideration for design and a successful planning application is the selection and engagement with a project design team. A strong team of consultants, generally led by the project architect or planning consultant, will help guide the development through the pre-planning process (if applicable) and onto the full application submission. The team is generally made up of, but not limited to, the following members:
Project manager – Generally appointed on large-scale projects such as an LRD (Large-scale Residential Development).
Project architect – key to good design within the framework of local policies and potential constraints.
Planning consultant – Vital to ensure a robust application, particularly on sensitive sites.
Engineers – Road, traffic, structural, M&E etc. All fundamental to ensure a commercially viable scheme design.
Landscape architect – Delivering essential hard and soft landscaping design that ties in with sustainability, useability, and local environmental objectives.
Environmental impact assessment (EIA) consultant – Where a scheme is deemed to have a 'significant' impact on the surrounding environment, then an EIA report will be required. For housing schemes under 100 units, EIAR is not mandatory. However, it may be considered a requirement (sub-threshold EIA development), according to the significance of the effects on the environment.
Daylight and sunlight consultant – One of the most 'looked at' and important reports of a planning application for small or large-scale developments. Analysis of the scheme's performance and potential impact on surrounding properties is fundamental.
Wind analysis consultant – Important from environmental grounds. It will also measure how comfortable open amenity spaces and thoroughfares will be for a scheme.
CGI consultants – Verified View Montages (VVMs) are a critical component of any planning application. Pictures paint a thousand words for planning authorities.
Request for a pre-application meeting
For many projects, submitting a request for a pre-app meeting is advisable. This meeting is known as a Section 247 (S247) meeting. It is formally requested through a completed form by the applicant along with the submission of the design and consultant information to be discussed in the meeting – such as site location maps, scheme design and its rationale, sketches, 3D renderings, verified view montages, environmental reports (full or partial) etc.
The S247 meeting allows the promotor of the scheme, through the project architect, to table the proposed design and explain its approach and rationale for it. It also affords constructive dialogue with the planning authority in order to secure support for the full application and to receive feedback from them on their thoughts about the scheme and if it's ready to move to a full application or may require further attention by the design team. The planning authority's feedback will be sent in written form to the applicant, up to 2 weeks after the meeting.
Note: This S247 meeting should not be mistaken for the Section 32 meeting, which is also a pre-application meeting, and aims to verify that the information presented is acceptable for a valid application to be made. Depending on the scale of the proposed development, a second pre-app meeting can be requested, in case considerable design changes and considerations have taken place following the first S247.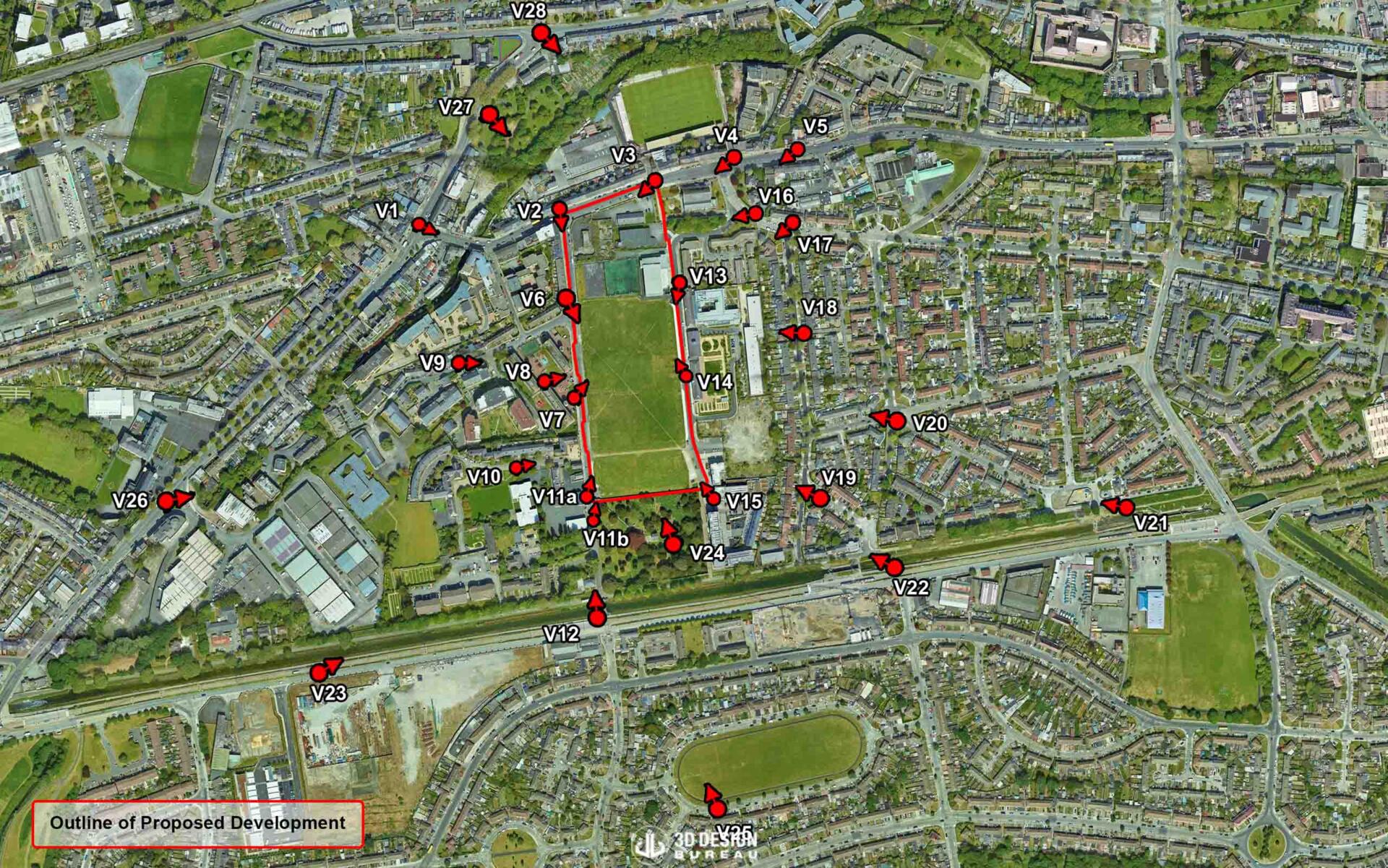 💡 Pro tip: For planning authorities, verified view montages are pivotal in understanding the visual impact of a scheme. In fact, for large-scale applications, they are now considered a prerequisite. These technical photomontages provide an accurate depiction of the visual impact a proposed development will have on its surroundings and adjacent structures and can greatly influence a local authority's opinion on a scheme. Based on our experience, the inclusion of verified view montages not only assists in securing planning permission but also can significantly save costs and valuable time in a project.
For sensitive large-scale developments, or particularly for public infrastructure projects, engagement with the public before full submission can take place. This is known as the public consultation period. This will involve presentations on what the scheme is and how it will integrate and bring value to the area and community. Public consultations can be vital on certain projects to engage with the local community and stakeholders in order to gather feedback and address concerns. Public support can be crucial for project approval.
Pre-Planning Timelines:
S247 pre-app meeting – Within 4 weeks of request.
Local authority's written opinion on the pre-application meeting – Up to 2 weeks after the meeting.
Public consultation: Undetermined.
Timescale for full planning submission following a pre-application meeting: Undetermined.
Time frame for the applicant to lodge planning following a pre-application meeting: Undetermined.
Note: Some timeframes or requirements may vary according to different local authorities and specific circumstances of the proposed development.
---
Read the full series!