Following the pre-application process and possible public consultation period, the design team will gear up for the full planning submission. This will involve the finalising of the design and all related inputs from the team of consultants, including the work 3DDB carry out – technical verified view montages (VVMs), presentation CGIs and daylight and sunlight assessment reports.
The timeline from the pre-application stage to full application submission will vary from project to project and, of course, from its urgency and requirements to get it lodged. The full submission must be made within two weeks of the newspaper advertisement and erection of the site notice/s, which must be visible for a minimum of 5 weeks. Failure to do so can result in the application being made invalid. Furthermore, if a site notice is not erected, this can also lead to an invalid application.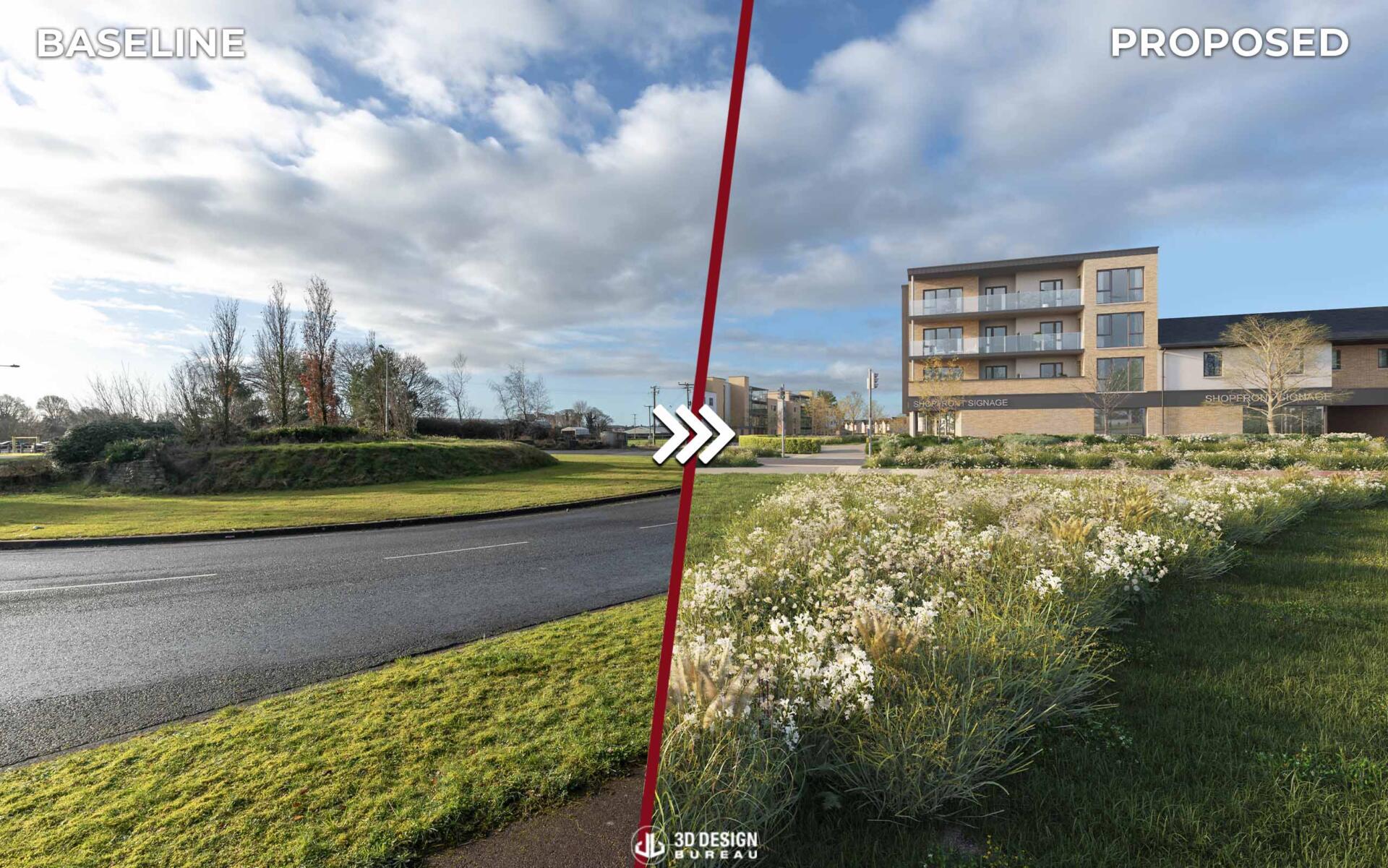 What to include in a planning application?
Documents and information that must be submitted in a planning application include but are not limited to:
Filled-in application form: This will include details about the applicant, the location of the proposed development, and the nature of the development etc.
Public notice: The application must include copies of the newspaper notice and the site notice.
Full design team planning pack: This will include a full set of drawings of the proposed scheme (floor plans, elevations, sections, site plan, landscape plan), topo survey, architectural design statement and report, planning report, all other consultant reports, planning and presentation imagery, EIA report etc.
Hard and/or soft copy submissions: Depending on the local authority, applications may be made through the digital planning portal, or they may require hard copy booklets. For large-scale schemes, this can be quite a considerable number of printed documents and sometimes demand up to 10x copies of each report submission. However, many councils are now transitioning over to digital applications, for obvious reasons.
Fees: There is a fee associated with submitting a planning application, which will vary depending on the type of development proposed.
Note: Please visit and navigate through the official website of your local authority, to see the full detailed list of documents required for submission.
The required documents and information for a planning submission may differ depending on the specific circumstances of the proposed development and local planning requirements. Members of the public can lodge written comments or observations on the planning application, within five weeks of its submission. These will also be considered by the local authority when reviewing the proposed scheme.
💡 Pro tip: From over 23 years of experience, we've witnessed many planning applications fall short due to insufficient information. This can stem from a lack of supporting documents or from providing documents that lack sufficient detail. For instance, daylight and sunlight assessments are crucial components of every planning application and have been the subject of judicial reviews ruling against developments. Proper care and attention should be paid to such a report by correctly including analytical 3D models of trees or surrounding environments.
Once an application is submitted the planning authority will validate the application within five days. They then have a period of 8 weeks to decide on either granting permission, granting permission with conditions, or ultimately refusing the application. They may also request Further Information (FI request) within 4 weeks of submission.
Planning application timelines:
Public notice must remain in place for at least 5 weeks.
Planning submission must be made within 2 weeks from public notice publication.
Observations by the public: 5 weeks from the time of submission.
Local authority decision: Up to 8 weeks from time of submission.
Time frame for the local authority to request further information: 4 weeks from the time of submission.
Note: Some timeframes or requirements may vary according to different local authorities and specific circumstances of the proposed development.
---
Read the full series!